Google Apps for Work Reseller Australia
A Better Way to Work

Google Apps for Work is the smart choice for todays fast paced business. Helping with day to day communications & reducing IT expenses.
Google Apps can take care of your business Email, Calendar, Contacts,  Documents, Spreadsheets in one place.
More than 5 million business are already running on Google Apps, are you ready to go Google?
Your email @yourcompany.com.au
30GB email storage & up to 16 Tb Storage for Google Drive
No additional Hardware or software
Always up to date.
Instantly deploy new Apps
Synchronise with Microsoft Outlook & iPhone / iPad.
If you have an internet connection, you have Google Apps
99.9% uptime guarantee
24 hour access, anywhere, anytime & on any device
Industry leading Spam filters
Always in Sync Email, Calendar & contacts
Mobile support - Android, iPhone, Blackberry, Windows Phone

Gmail for Business
More than just email
Works on any device, anywhere.
Gmail for business works where you do, on any computer or mobile device with an internet connection. Works with Microsoft Outlook.

Google Calendar
Organise your time with Google Calendar. Get event reminders both on your phone or desktop or even via email or SMS.
Calendar sharing makes it easy to schedule your time with the people you work with and the smart scheduling feature suggests meeting times that work for everyone.
Google Docs
Create, upload & edit your documents, spreadsheets & presentations without the need for expensive software.
Acess your documents from anywhere and on any device with an internet connection.
Google Docs is made of teams. Multiple people can access the same document and work together. Simply, a better way to work.
Google Drive
Access your files on any device anywhere.
With Google drive you can store your files, share your files & access them from any device, anywhere. Mac, PC, Mobile & Tablet devices.
Storage can be expanded to up to 16 TB (16,000 GB) if required.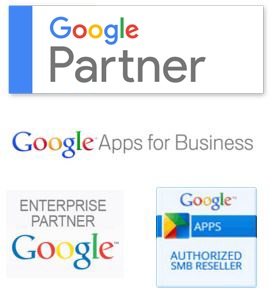 Collaboration

Google Apps makes working together easy. Imagine working with your colleges on the same document at the same time. No more file access issue, discuss & make changes instantly. Work from home, from your mobile or even from the other side of the world.
3rd Party Enterprise Grade Tools
The Google Marketplace has hundreds of third-party apps, developed to work with Google Apps.
Accounting, invoicing, customer relationship management (CRM), project management, Email marketing, & much more.

Netpresence Australia is an Authorised Google Apps for Work Reseller & helps manage & support your Google Apps accounts locally.
We can help with
• Installation & Configuration
• Migration from existing email systems
• Local Phone & Email Support
Discover a better way to work.